45-min to the best workout of your life
Experience the Transformation in a Studio 45 High-Intensity Pilates Class

Efficient Workout
We maximize the 45-min class, with slow and controlled movements that push your limits. You'll leave class with muscles shaking and a sense of pride at how hard you worked.

Supportive Community
Our instructors and members are friendly and approachable. You'll find a welcoming tribe that helps and encourages one another to bring out our strongest selves.

Noticeable Results
Develop strong, defined muscles and functional strength to feel and look your best. You'll be able to tell a noticeable difference in your body in as little as 5 classes!
Tired of Fitness Programs that Over-Promise and Under-Deliver?
At Studio 45, we exist to change all that.
Our classes are:
DESIGNED TO MAXIMIZE YOUR TIME AND EFFORT
BASED ON THE SCIENCE OF BODY MECHANICS
SAFE FOR ALL AGES & FITNESS LEVELS
HIGH-INTENSITY, LOW IMPACT MOVEMENTS
FOCUSED ON FUNCTIONAL STRENGTH & INJURY PREVENTION
IN SMALL GROUPS TO ENSURE YOU'RE CHALLENGED & SUPPORTED
Full-body Transformation
in as little as 5 classes
What makes the Studio 45 workout so efficient and effective? Our small classes have no more than 11 people, so you get the personalized attention, individual challenge, and support of the instructor. We'll know you by name and ensure you're getting what you need out of the workout. Our workout is based on high challenge and high support, to maximize the time and energy you put in.
A Studio You'll Look Forward to Coming To
Clean & Airy Studio With Small Class Size
"The studio is super, super clean and chic. There are only 11 machines and so the maximum number of people in each class is 11, making the workout setting more intimate and the instructors are able to give more individualized attention. Would highly recommend this studio to anyone looking for a fun yet challenging workout!"
Immediately Hooked on This Workout and Studio Culture
"I started going to Studio 45 after my friend told me 'you'll love it!' - and she was so right! I even purchased a 1-year membership! The staff are so nice, supportive, and encouraging and the workouts are always different. Studio 45 is the most enjoyable and effective full-body, low-impact workout!"
My Back is Stronger & Doesn't Hurt Anymore After Doing This Workout
"After attending for several weeks, my 46 year-old desk-worker back doesn't hurt all day like it used to. My core is so strong and supports my body so much better. Let's be clear - the workout is really hard! But...you're done in 45min and everything get's stronger. I can't recommend this workout and studio enough!"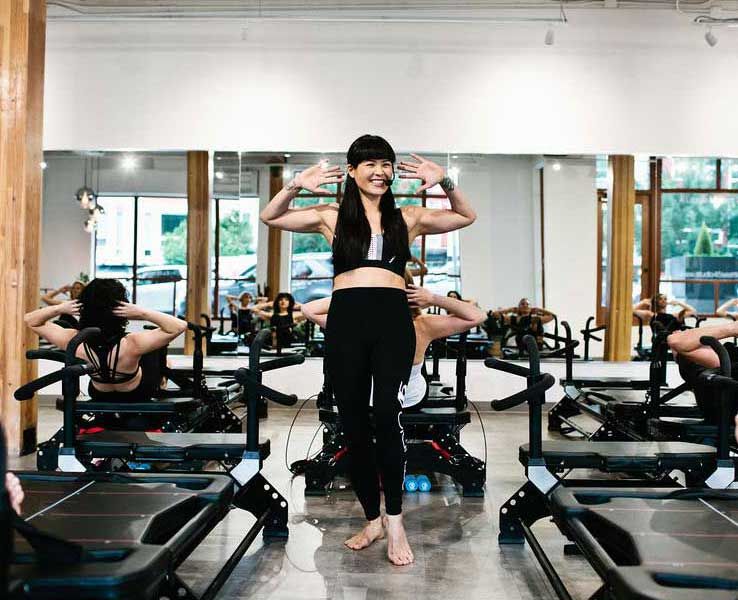 We'll guide you to feel your best
Individual Guidance & Challenge
In classes of 11 or less, you'll get personalized guidance from our instructors. Each instructor is certified in our proprietary, science-based method and will ensure your workout is challenging and fun.
A Focus on Core Stabilizing Muscles
The torso is the body's center of power. The more strength and stability you achieve in your core, the better you'll be able to prevent injuries and maintain good alignment and posture.
Workouts That Promote Fat Loss & Lean Muscle
The Studio 45 workout activates the slow twitch muscle fibers to create long, strong muscles providing you with a stronger foundation for life. We keep your body in the fat-burning zone for nearly the entire 45-min workout and you'll be burning fat long after you leave the studio.
Experience The Pacific Northwest's Most Rewarding Workout
What are you waiting for? Getting started is as easy as 1-2-3!

Book Your Spot
Book a class to reserve your individual machine in the studio.

Come To Class
Show up ready to work hard and challenge yourself for 45-minutes.

Feel & Look Your Best
See your body transform into a stronger, better, healthier you!
New to Studio 45?
We've got you covered. Take advantage of our introductory offers!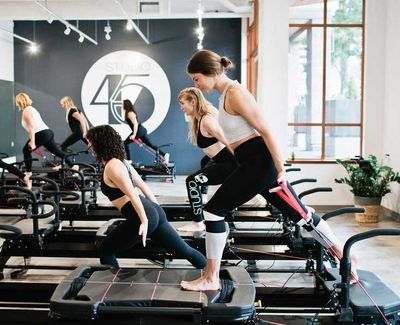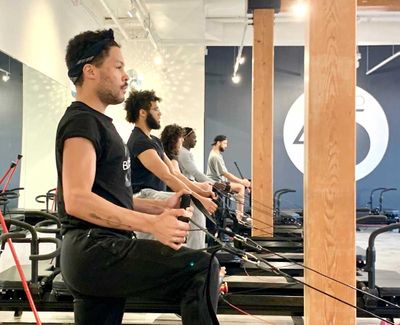 Visit Studio 45 in Seattle or Portland
THE CORYDON BUILDING
5101 25TH AVE NE
SEATTLE, WA 98105
THE HAYES BUILDING
3727 STONE WAY N. SUITE D
SEATTLE, WA 98103
TANASBOURNE STUDIO
1874 NE 106TH AVE

HILLSBORO, OR 97006
PORTLAND STUDIO
1100 SE DIVISION ST, STE #110

PORTLAND, OR 97202